"Kiki stroller" 8,229 auto music toilet, unique design, equipped with lights, wheel, deft convenient, high quality and low price beauty
======企业介绍======
The company's integrity and development, seek survival with quality business philosophy, specializing in the production of high, medium and low-grade products and wholesale sales. Its main products are well-known brand, electric vehicles, bicycles, baby walkers, strollers, tricycles, iron beds, wood bed over more than 500 varieties, all through the CCC certification of product quality, some products have passed CE certification. Welcome new and old customers to visit us!!!
===== 产品描述 =====
Name:8,229 auto music toilet

名称:8229汽车音乐坐便器
Model: 8229 (12 PCS )

型号: 8229 (12 PCS )
Size: 72*54*78 cm

尺寸:72*54*78 cm
Product description: simple operation, unique designs, colorful, turning freely, deft convenient, high quality and low price beauty

产品描述:操作简便,设计独特,色彩多样,转向自如,灵巧方便,质优价美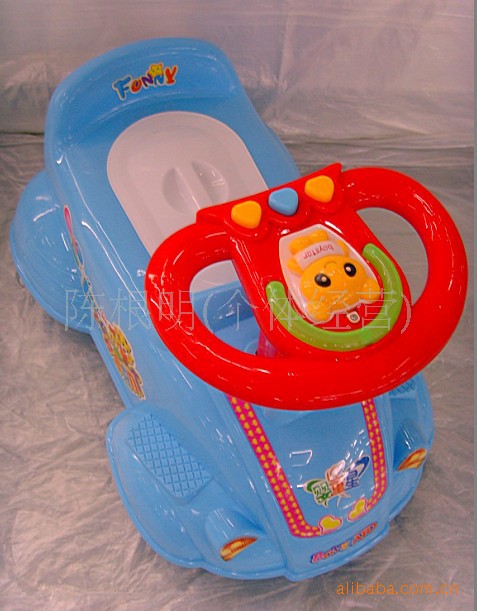 Toilet 8,229 auto music, unique design,fashionable,equipped with light base with wheels, deft, sliding blocks and toilet service. In the baby after going through the drawer box in time "poop", fast and convenient,design original, pay attention to materials, equipped with music, is one of many mothers selected for the baby a toilet, let your baby enjoy the care of a mother!
Welcome new and old customers to visit it!
" Product description "
★ 货号(Item No):8229坐便器
★ 装箱(Packing):12PCS/件
★ 毛重(GW):18.5公斤
★ 净重:12KGS
★ Packaging specification: 72*54*78cm
★ Product specification: 51.5*34.5*29cm
Notes:
1 is installed before using, be sure to check the parts connected fastening.
2, when baby ride, please do not let children come into contact with moving parts.
3, when a child is riding, caregivers not to leave.
4, do not let your child stand on the seat.
5, when a child is sitting in the car, do not use the car lift or escalators and stairs.
6, please don't hang heavy objects on the handlebar, it will affect the stability of the stroller and cause risk of rollovers.
7, please do not close to the rugged site, stoves, and other hazardous areas using the car.
8, to avoid in the damp, cold, or use goods store in a high temperature environment, and keep away from fire and strong heat sources.
9, please remove all plastic bags and small parts (such as wheel nut) away from children to avoid suffocation injuries that may arise.